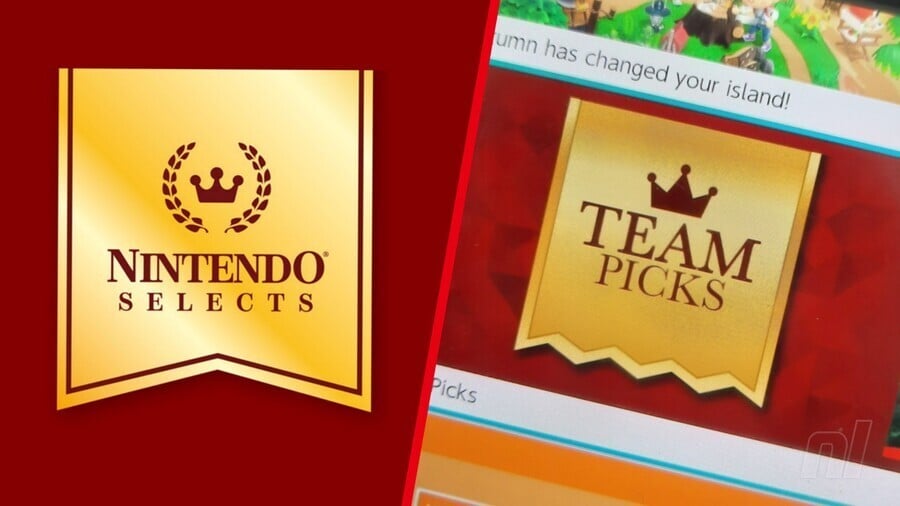 We miss Nintendo Selects. Nintendo's budget marketing label was used to indicate the company's best-selling titles that were sold at lower prices. Introduced in 2015 and used on Wii U and 3DS titles, every time we saw this little gold logo, we were always a bit excited to see those first-party titles at a reduced price. Sadly, this hasn't made a return on the Switch or the eShop, but Nintendo seems to be reusing some of those assets in a bit of a cheeky manner.
Good friend of Nintendo Life Jon Cartwright spotted the 'Team Picks' range over on the Switch's eShop earlier today and rightly pointed out that the branding looks pretty darn familiar. The gold label, the little crown, and even the font are all reminiscent or taken from the Nintendo Selects marketing
Of course, the biggest difference is what they offer — Nintendo Selects is actually a marketing label, so it's used to advertise games (often first-party titles) that are heavily discounted. Oftentimes, full-priced games can be bought for a fraction of the cost. Under the Selects label, Super Mario 3D World and The Legend of Zelda: The Wind Waker HD are only £19.99 in the UK, for example! And as for the 3DS, Super Mario Maker for Nintendo 3DS and Donkey Kong Country Returns 3D are both only £15.99.
Nintendo's 'Team Picks', however, is not a sale banner, nor is it a marketing line. It's just a promotional page on the Switch eShop that lists multiple best-selling Switch games — but they're not on sale. So people clicking on this page, expecting something similar to the Nintendo Selects, might be disappointed when they see that, no, Animal Crossing: New Horizons and Fire Emblem: Three Houses aren't on sale at the moment (at least at the time of writing this).
Nintendo Selects is iconic branding at this point, so we understand why Nintendo went for something similar for its Team Picks, but we couldn't help but be a tiny bit disappointed. Especially as the Switch is yet to receive a budget label.
Did you spot this on the eShop today and pray for some surprise Switch reductions? Do you mish Nintendo Selects? Share your thoughts with us in the comments.



Source : https://www.nintendolife.com/news/2022/09/random-switch-eshop-team-picks-logo-looks-awfully-familiar