It's always fun watching movies that take us to the glitz and glam of a casino. Whether it's martinis at the roulette wheel, glamorous night clubs, or high-stakes card games we love peeking into this world for a few hours. This list includes some of our favorite Casino themed movies from 2000 onwards all with different stories behind them.
From dark tales of addiction to comedies about winning huge fortunes overnight you can't go wrong if you decide to watch any one of these fantastic films! So grab your popcorn and jump into this list full of exciting scenes and plots – you won't regret it!
Ocean's Eleven (2001): A star-studded cast of George Clooney, Brad Pitt, and Matt Damon team up for one of the most iconic heists in movie history.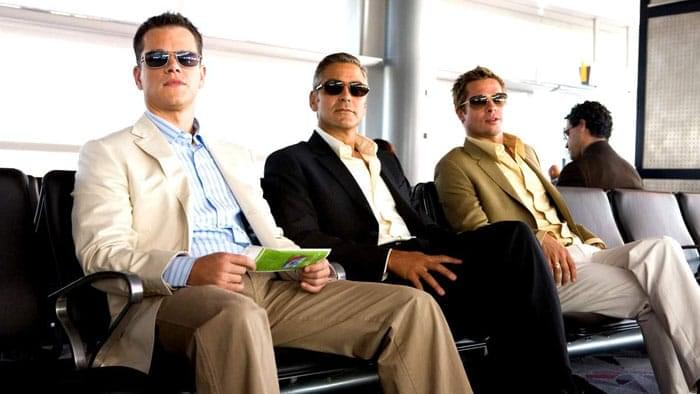 Ocean's Eleven (2001) is a thrilling rollercoaster ride of a heist movie, with a star-studded cast that includes the likes of George Clooney, Brad Pitt, and Matt Damon. These iconic actors effortlessly bring their game-changing character personalities to life, weaving a tale that is as entertaining as it is captivating.
The plot revolves around a daring heist of 150 million dollars from three of the biggest casinos in Las Vegas. With high octane action, witty dialogue, and intense suspense, this movie continues to capture the imagination of audiences around the world. Whether you're a fan of heist movies or just popular culture, Ocean's Eleven is definitely one for the books.
21 (2008): Based on the true story of six MIT students who took Las Vegas for millions.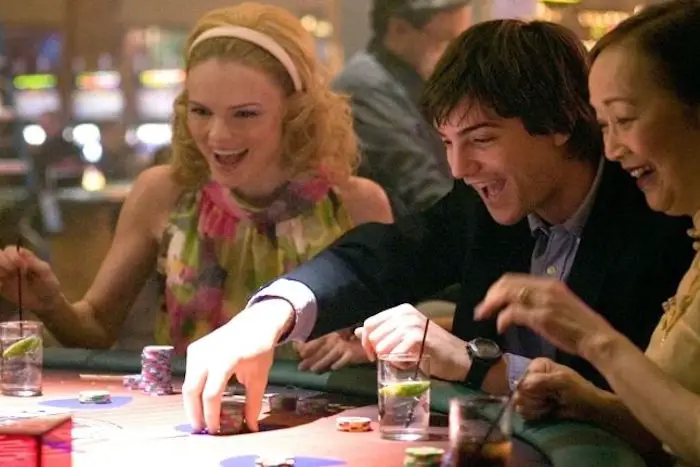 "21" is not just another gambling movie; it's a thrilling true story of six MIT students who use their intellect and strategic skills to win big in Las Vegas. The plot follows the group, led by their charismatic professor, as they devise a plan to beat the system in high-stakes blackjack games. The audience is drawn into the excitement as the team's wins and losses mount, and the risks become greater. With excellent performances and an intriguing storyline, "21" gives viewers a rare glimpse into the world of professional gambling and the human drive to beat the odds.
The Hangover (2009): A wild night out in Las Vegas leads to a series of misadventures and crazy antics that will leave you laughing out loud.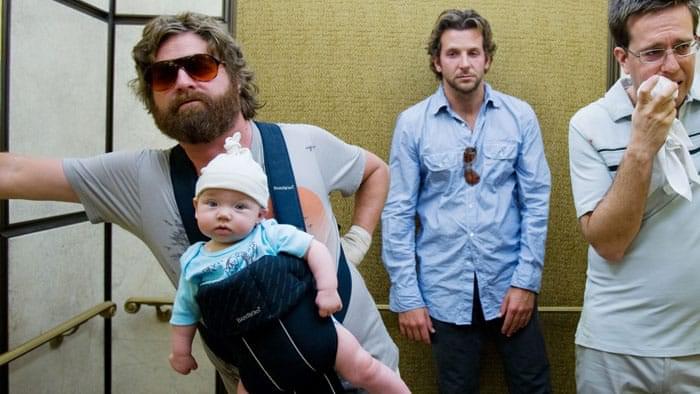 Have you ever had a wild night out with friends that you just can't remember? That's exactly what happens to the characters in the hit movie "The Hangover" (2009). Set in Las Vegas, the group of friends embark on an epic adventure that involves everything from stolen police cars to a tiger in their hotel room.
The movie's outrageous scenarios are enough to make anyone laugh out loud. And as the group retraces their steps to figure out what happened the night before, the audience is taken on a wild ride that will have them hooked from beginning to end. If you're in need of a good laugh, "The Hangover" is definitely worth a watch.
Casino Royale (2006): Daniel Craig takes on his first role as James Bond and enters a high-stakes poker game with Le Chiffre, the terrorist financier.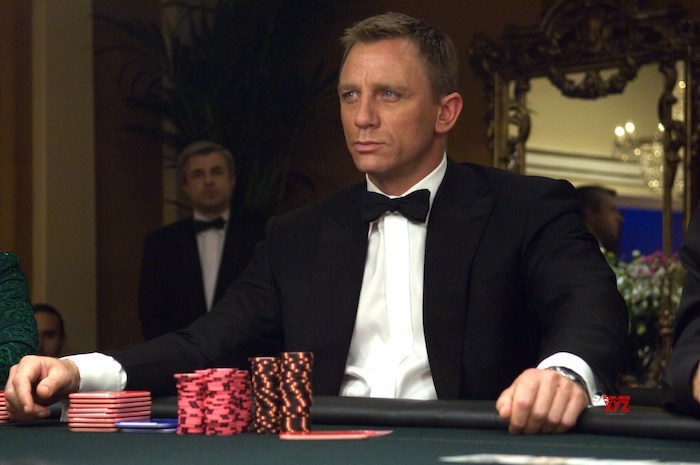 In 2006, cinema-goers were introduced to the newest and grittiest incarnation of James Bond yet. Daniel Craig famously stepped into the iconic 007 role for the first time in "Casino Royale," taking on terrorist financier Le Chiffre in a high-stakes poker game. This film breathed new life into the franchise, delivering pulse-pounding action sequences and a thrilling plot that had audiences on the edge of their seats.
Craig's performance as Bond was met with critical acclaim, and his portrayal of the secret agent helped cement his status in Hollywood as one of the best action stars of his generation. "Casino Royale" remains as entertaining and engaging today as it was upon its initial release, a testament to the enduring appeal of the Bond franchise.
Rounders (1998): Matt Damon stars as a former poker prodigy trying to make a comeback in this story of friendship and loyalty set in New York's underground world.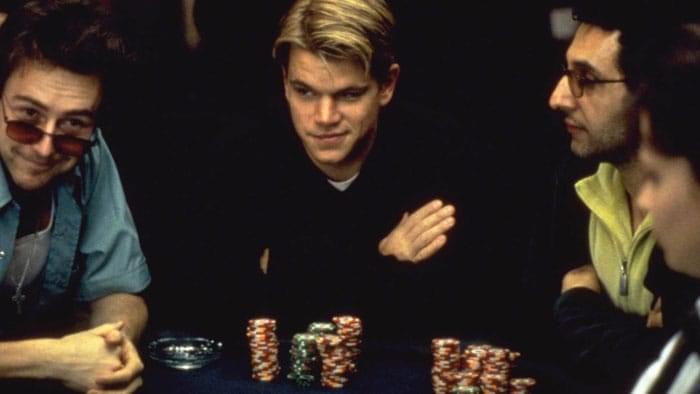 In the gritty underground world of New York City, a former poker prodigy named Matt Damon is trying to make a comeback in Rounders (1998). The movie follows Damon's character as he navigates the high-stakes world of underground gambling while trying to stay true to his sense of friendship and loyalty.
Rounders is a thrilling tale of second chances and the power of perseverance. With a cast that includes John Malkovich and Edward Norton, this classic movie continues to captivate audiences with its suspenseful story and unforgettable characters. Whether you consider yourself a poker aficionado or just love a good underdog story, Rounders is a must-watch film that is sure to leave you on the edge of your seat.
The next movie is also from the nineties, but despite its age a welcome addition to this list, similar to what´s an online casino bonus is to a player.
Croupier (1998): Clive Owen plays a casino dealer caught up in the criminal underworld of London's gambling scene.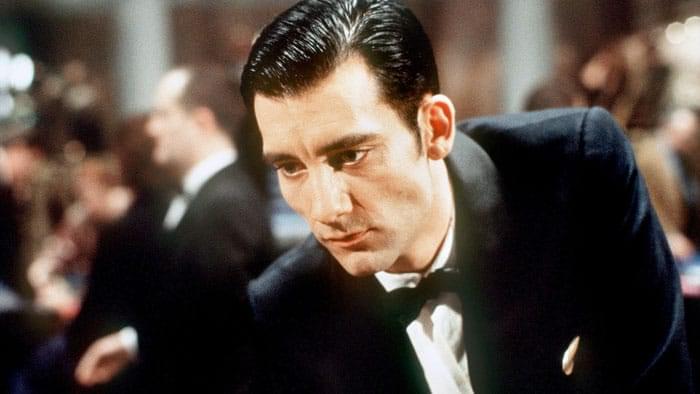 The 1998 film "Croupier" is a thrilling exploration of the dark underbelly of London's gambling scene. Clive Owen delivers a captivating performance as Jack Manfred, a struggling writer who takes a job as a croupier to make ends meet. But Jack soon finds himself drawn into the dangerous world of high-stakes gambling and the seedy characters who inhabit it.
As he becomes increasingly involved in their schemes, Jack is forced to confront his own morality and the cost of his actions. With its slick visuals and gripping storyline, "Croupier" is a must-watch for anyone who loves a good thriller.
Las Vegas has been the backdrop for some of the most exciting and thrilling films ever, from the classic Ocean's Eleven to more recent offerings like Croupier.
However, no matter what, these films all have one thing in common – the captivating excitement and tension created by high stakes gambling. To capture that feeling, it is important to remember that it starts with having respect for the game and its players.
Whether you're watching a movie or embarking on your own journey at a online casino table, remember to stay focused and play responsibly. Afterall, while a lucky streak can bring amazing rewards – nothing beats walking away from the table knowing that you took part in an incredible experience!

Source : https://filmthreat.com/features/best-casino-movies-from-the-2000/